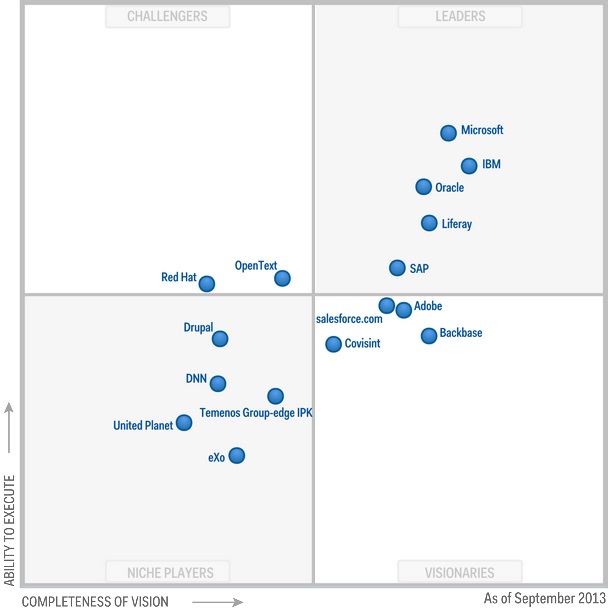 By David Roe.
A quick look back at Gartner's Magic Quadrant for Horizontal Portals over the past two years compared with this year's Magic Quadrant seems to point to a stagnant market. However, while IBM, Liferay ,Microsoft, Oracle and SAP still dominate the Leaders' Quadrant, there are subtle shifts in emphasis across the entire Magic Quadrant that are being precipitated by customer demand for more agile and cloud-based portals.
While it is unclear as to when this mood-change will actually be reflected in a change in the Leader's Quadrant, the rapid evolution of the lighter versions should see changes coming in the near future.
Note: Check out the full report here.
Before looking at the Leader's Quadrant today and the other players early next week, we will take a look at the overall market to identify those shifts.
Horizontal Portals
For our purposes, we will use Gartner's definition of a portal:
[A portal is] Web software infrastructure that provides interaction with relevant information assets knowledge assets, and human assets by select targeted audiences, delivered in a highly personalized manner"
Portals target a range of audiences from C-Suite executives to customers and partners. A portal product, Gartner says, is a packaged software application used to create and maintain enterprise portals. They can be classified as follows:
Vertical portals: Providing access and interaction with applications, or business functions.
Horizontal portals: Integrate and aggregate information from cross-enterprise applications, as well as line-of-business tools.
Portals, then, provide personalized points of access and interaction with relevant information and serve three different audiences:
End users: Unified access to siloed content.
Business organizations: A unified place to interact with customers and employees.
IT organizations: A scalable environment that delivers Web applications, or enables collaboration.
According to Gartner, the market is currently responding to 8 different trends that it has identified. It is unusual for Garter to be so specific about the market context in its Magic Quadrants, but in this case the evolution of the market is so rapid that it has broken down these trends to clarify what's happening. The 8 trends are:
1. Nexus of Forces
The Nexus of Forces has made the market more challenging than ever and describes a situation were a number of different forces are colliding and reshaping the market in the process. Some are forces that are part of a broader IT industry dynamic, others are specific to portals.
Users are looking at portals now in the light of enterprise needs for social, mobile, cloud and information management software, and say, in some cases, that the portals are hard to maintain and manage. The result is slow market development with growth among big providers slowing to 0.2% last year. That said, users are still looking for single-point entry for their data.
2. Market Splits
The market is splitting into heavyweight and lightweight providers. Heavyweight portals provide full-featured, but complicated wide-ranging products. They also tend to move beyond pure portal provision to other areas like content management, social computing and collaboration.
Lightweight providers offer low-cost, easy-to-deploy portals that cover the basic, but essential portal requirements. They tend to integrate with enterprise infrastructure rather than replace other applications.
3. UXPs Emerge
User Experience Platforms (UXPs) are now also emerging as portals and provide technologies that support rich experiences across all Web channels. A UXP takes the form of a platform that provides and integrates all elements of the Web experience. It is still a new element in the portal market. However, some of what is referred to as UXP is merely bulking up portal packages.
4. Mobility Is a Differentiator
Many portal packages now incorporate mobile support. Many portal providers have been developing this functionality for more than 10 years. The picture is changing, though, with the explosive growth in mobile devices in the enterprise. IT managers are currently struggling to provide support for an array of smartphones and tablets, which could impact on future development, This is particularly problematic with the rise of BYOD strategies.
5. Portals and the Cloud
Like all other IT sectors, there is a significant shift towards cloud computing. In the portal space, Office 365, and in particular the SharePoint Online element of it, has gained considerable traction despite limitations. In the portal space, Gartner says, the cloud is not just a different deployment option, but an unavoidable part of the environment through which portals must be able to provide their services. This has made cloud computing one of the truly disruptive technologies in the portal market.
6. Digital Marketing And Portals
Many vendors are now targeting business leaders rather than the IT department in organizations as enterprises increasingly see the Web as vital to their business. The result is that portal vendors are being forced to provide comprehensive solutions for business problems rather than a disconnected array of tools and platforms. Portals are now also expected to support all enterprise processes and to be usable for marketing and customer service personnel.
7. Portal and WCM Demands Converge
Over the past few years there has been a notable convergence between the portal market and the WCM market. Over the last decade enterprises have looked to horizontal portal platforms,or WCM systems, as the primary software foundations for their websites. Both have their strengths: WCM supports content creation and management, portals offers users access to that information.
However, the emphasis on user experience is pushing the two together, particularly with customer-facing Web initiatives. Most of the large portal providers have either bought, or developed WCM. However, they are not completely converged and there is some way to go yet.
8. Vendors Shun Portal Label
Over the past few years, Gartner says, vendors have shied away from describing themselves as portal vendors. This is a result of marketing drives to present old concepts under a new name as well as the mixed success of some portals in some organizations. In many projects, expectations of what portals could do were too high, leading to many disappointments.
Horizontal Portal MQ Inclusion Criteria
It is against this backdrop that Gartner has developed this Magic Quadrant. Like all its other Quadrants, inclusion is difficult with rigorous criteria. This year, the criteria include the ability to :
Provide support for different portal scenarios including customer facing, employee facing, and partner facing deployments.
Offer security administration including access administration
Integrate with a wide range of data sources, applications, content and services
Offer personalization and end-user customization
Provide content management, including the ability to create, organize and publish content
Support multichannel and multidevice delivery
It must also support clients in more than one industry vertical and be able to demonstrate at least US$ 4 million in annual portal-related revenues in the past year.
The Leaders Quadrant
Those that made it into the Leaders' Quadrant have a full range of capabilities and have demonstrated consistent product delivery in meeting customer needs. In alphabetic order, this year's Leaders include:
IBM
IBM has managed over the past few years to position its WebSphere Portal to appear to attract both business and IT users. It has also repositioned it as a Digital Experience product rather than Web Experience product to suggest multichannel management.
Strengths: Its leadership in the market has given WebSphere an unequaled set of features. It has been cited by reference customers for its scalability, reliability and performance. IBM has aggressively marketed it across business and IT leaders.
Cautions: It still requires considerable design, development and integration investment, something IBM is addressing at the moment. Complexity and cost have pushed some customers in alternative directions. The pricing model is complicated and is not suitable for those with simple needs.
Liferay
With Liferay v6.2 due this month, its initial value proposition is that it is simpler, less expensive, and faster to deploy. It has been built out with social and collaboration abilities.
Strengths: Liferay has a long list of satisfied customers in challenging deployments. It has consistently enjoyed double-digit growth in revenues and customers. A lightweight portal, it has shown that it can meet current enterprise needs. Its open source base provides a low-cost alternative for organizations that have the skills sets.
Cautions: It is smaller than other Leaders in the Quadrant in terms of engineering and support resources. The result is that it is under pressure to support rapid growth. Customers should be sure that they have adequate portal and Java expertise before investing.
Microsoft
What more do we need to say about SharePoint. Firmly established across the entire enterprise spectrum, its move into the online space appears to be working out.
Strengths: The majority of SharePoint deployments are internal facing and departmental in scale with a focus on collaboration. The new 2013 version shows promise in supporting wider, broader and more sophisticated deployments. Its prevalence overshadows its competitors' attempts to expand their market presence.
Cautions: It is clumsy where it is used outside of large, centralized deployments and heterogeneous environments. Enterprises that are not committed to .NET technologies and skills would be better off looking elsewhere. Its alignment with Microsoft's technology stack entails a long-term commitment to Microsoft infrastructure.
Oracle
Its WebCenter Portal serves as the basis for its UXP strategy. WebCenter Portal 11g was designed to support multichannel environments and is part of a larger suite that includes WebCenter Sites and WebCenter Content.
Strengths: It works well for organizations that are in favor of integrated suites and customers consistently point to its ready integration with Oracle security solutions. It has an aggressive roadmap for building all kinds of Web and multichannel presences. It also appeals to IT departments because of its modern architecture.
Cautions: Its value proposition appears to increasingly depend on a full Oracle stack as well as specialized technical expertise. Oracle's acquisition and rebranding strategies leave customers confused about future product development, while some report problems that indicate product immaturity.
SAP
SAP is currently upping its game in the portal market and is currently looking to use it to extend its reach in the enterprise. Its NetWeaver Portal is widely seen as a way of aggregating and contextualizing a range of SAP and non-SAP applications. It also introduced SAP Hana Cloud Portal recently.
Strengths: Hana is capable of bringing substantial innovation to portals. NetWeaver, now in v7.4, will soon start using Hana's real time data and user interface integration services capability to enhance a range of other capabilities. NetWeaver is compelling where an enterprise is using SAP technologies. Its portal is now starting to gel with users as part of SAP's overall user experience strategy.
Cautions: SAP is preoccupied with customers that consider SAP their application backbone so those that do not should look twice. Despite some external facing scenarios, it is best suited for internal, employee facing information and business processes. Users are also starting to move away from NetWeaver when thinking about user experience improvements and looking at more topical developments like Fiori and Screen Personas. SAP needs to clarify NetWeaver's place in its wider portal strategy.
That's it from the Leaders' Quadrant. Early next week, we will be looking at the other quadrants and the issues that are separating the Leaders from the rest.
Published at cmswire.com