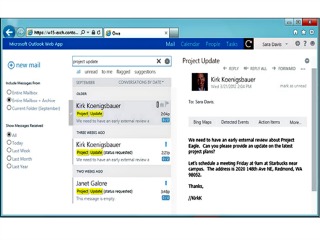 Microsoft recently announced plans to offer Office 365 as part of GoDaddy's Web hosting service. The move is one small part in the company's strategy of getting Exchange customers more fully into the cloud, according to one expert.
Battle of Email
Office 365 allows Microsoft customers to access their Office documents from virtually anywhere, but it also includes tools like email. Microsoft Exchange, of course, is the full email suite that thrives as an on-premise tool, though there is also an online version. Email is now moving to the cloud, and everyone can see it, Liam Eagle, a 451 Research analyst, explained in an interview.
"We're at that point in the adoption curve where everyone sees the value of it," he said.
This is clearly an issue at Microsoft because so many Exchange customers are using the on-premise version, Eagle said. That means any of those customers looking to move their email away from a private server could start looking at competing services like Google. To help prevent that, Microsoft is pushing its webmail hosting prowess with deals like the one announced with GoDaddy.
Eagle put it like this. No company hosts its own websites on an in-house server. Eventually, the same will hold true for email, and that's what this move is all about. Companies that host websites with GoDaddy can use the Office 365 technology as part of the email tied to their websites. With Exchange, companies will be working with a systems integrator or value added reseller to power their email — groups that had initially been opposed to Exchange moving to the cloud, Eagle said.
Now, those companies have warmed to the idea, and moving ever larger numbers of Exchange on-premise customers to the cloud is a real Microsoft priority. "Microsoft has tuned Exchange to fit the cloud model company," Eagle said.
The SharePoint Question
Office 365 could also be a way to get other on premise Microsoft customers into the cloud, especially those of the SharePoint persuasion. Not all of SharePoint's capabilities are offered in Office 365, of course, but for SMBs in particular, the collaboration features could be noteworthy.
SharePoint capabilities in Office 365 depend on which plan companies choose, but its external sharing, Office Web Apps, search and social features are in all of theplans. SharePoint is more known as an enterprise product, so this is another way Microsoft is filtering its enterprise tools down to SMBs, and getting them into the cloud.
How many customers are actually making this move is not totally clear. We do know Microsoft reported its commercial cloud revenues jumped 103 percent year-over-year, and Office 365 grew in triple digits. Furthermore, Dynamics CRM customers have moved en masse into the cloud as well.
Microsoft's Partners
Exchange on-premise customers are distinctly on the enterprise side, but this Office 365 and GoDaddy partnership is focused on small and medium sized businesses. This looks to be a key space for Office 365 and has been tracking that way since Office 365 launched.
The types of companies least likely to have an on-premise Exchange license are SMBs, so Microsoft customers in this segment are going to be using Office 365. They don't have to go through a partner to get it, of course, but Microsoft has struck partner deals with many types of companies during its Office 365 rollout, TJ Keitt, a Forrester analyst said in an interview.
"Many customers, especially SMBs are going to want to have help setting up their Office 365 instances, and they can combine that with other services when they use one of the partners," Keitt said.
This approach seems to be working. Office 365 is already a $1 billion business for Microsoft, Keitt pointed out. However, the reliance on a few channel partners, and the shift toward the cloud in general, have not been without disruption. Microsoft recently decided to cut the commissions it pays out to some of its reseller partners, a CRN.com report found, and that means they will collect fewer fees when selling things like Office 365.
"Microsoft is billing itself as a devices and services company, and the cloud strategy fits right in with the services idea," Keitt said.
Taking is customers to the cloud, including those on premise Exchange customers, will no doubt be a slog for Microsoft. Additionally, the shifting partner relationships in the face of lower margins for selling Office 365, could also complicate things. Established IT companies making seismic shifts in their long-term strategy, however, is something we should all be getting used to by now.
Seen on cmswire.com.